Arrowhead Justice Court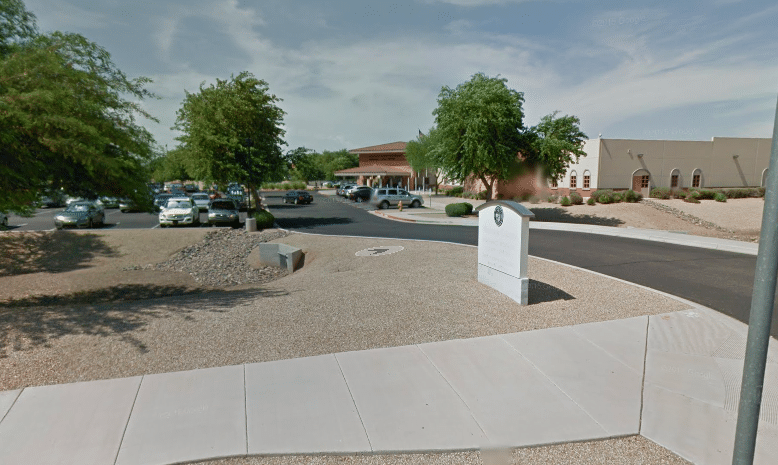 Arrowhead Justice Court is located in Surprise, Arizona in Maricopa County. Surprise is located in the greater Phoenix Metropolitan area and was founded in 1938 by Flora Mae Statler, a real estate developer. It is said that she named the city "Surprise" after stating that she would be surprised if the town ever amounted to anything. However, it is one of the fastest-growing municipalities, and now has a population of over 120,000. Sun City Grand, an age-restricted retirement community, is one of the main contributors to the city's population growth. Additionally, major businesses like Walmart and the Home Depot have contributed to the booming economy, and the city also has a stadium that the professional baseball teams the Texas Rangers and Kansas City Royals use for spring training.
With Surprise being an easy 45-minute drive from Phoenix, residents are able to experience the big city life and then go back to the exclusivity that their smaller city affords. Visitors to Surprise can go shopping, have a bite to eat, go hiking in the White Tank Mountains, or play at the Uptown Alley, an entertainment complex that features a 40-lane bowling alley, laser tag, a sports theater, and other activities.
Arrowhead Justice Court Judges & Hearing Officers
The Arrowhead Justice Court criminal jurisdiction falls under any case considered a misdemeanor by state law, prosecuting individuals for Driving Under the Influence, Criminal Speeding, Traffic Ticket Violations and other misdemeanor crimes.
The Court has one main criminal Judge:
Judge Craig Wismer
Judge Craig Wismer was elected Justice of the Peace of the Arrowhead Justice Court in 2012 and has been on the bench ever since. In our subjective opinion, Judge Wismer is a very reasonable Judge and uses his discretion in situations that warrant action from the bench.
Arrowhead Justice Court sees a very high number of traffic violations, and Judge Wismer takes these violations seriously. This jurisdiction at times sees devastating accidents, resulting in injuries and deaths. It seems to us that Judge Wismer is using his position as a Judge to encourage and promote safe driving while not being overly punitive in his rulings.
Criminal Case Process
The Arrowhead Justice Court runs criminal cases in five main stages:
Arraignment: This is the first court date in any criminal case. At this setting, the Court wants to know whether you want to plea guilty or not guilty, set your case to a trial, retain an attorney, and whether you understand your rights. The Court will also advise you of the maximum penalties you could face under the law as it related to the crime with which you were charged. Generally, our office is retained well before this court date, and we file paperwork to vacate this court date on your behalf.
Pre-Trial Conference: This is the next setting that follows after the arraignment. This is a pre-trial conference ("PTC") where the state generally makes their first plea offer. An unrepresented individual may meet with the prosecutor who will advise that they are representing the state. If you retain our law firm, you are not required to attend this hearing as we appear on your behalf. In the time between the arraignment and the pre-trial conference, our office requests all preliminary discovery including police reports, body cam footage, etc.
Case Management Conference: This is the setting that follows the pre-trial conference. At this setting, the Court wants to know the status of the case, including whether case interviews have been completed or whether blood results have been disclosed if applicable. The Court also inquires as to the status of discovery and whether there are any outstanding issues at the time. Again, if you retain our law firm you are not required to be present for this setting.
Trial Readiness Conference: This is the final setting before trial. At this stage, it must be determined whether the case will resolved via a change of plea or whether the case will proceed to trial. The vast majority of cases never proceed to trial and are resolved at this setting. Depending upon the nature of your charges, you may be required to be present unless you receive notification otherwise from our firm.
Trial: This is the final main phase of the Arrowhead case process. At this stage, we will be entitled to cross examine the state's witness and our team will present our case on your behalf. Depending upon the nature of the charges alleged against you, you may or not be entitled to a jury in your matter. You must be present at this hearing.
The entirety of the process generally takes about 3-4 months, depending upon the complexity of your case and the nature of the charges alleged against you.
Hiring Arrowhead Justice Court Defense Lawyer
Our office is located about 1 hour away from the Arrowhead Justice Court and our attorneys have years of experience in every corner of the this system. If you have been charged with a crime or traffic in ticket please contact our office to schedule a free case evaluation at 602.737.2437 or schedule an appointment online. Our office has represented hundreds of individuals in the Arrowhead Justice Court, and we know the process and system well. Please contact our law firm if you have questions about a criminal or civil case in Arrowhead at (602) 603-4691.
Arrowhead Justice Court Location and Contact Information
14264 W Tierra Buena Ln.
Surprise, AZ 85374
Phone: (602) 372-2000
Fax: (602) 372-2620
The Arrowhead Justice Court is located inside of the Maricopa County Northwest Regional Court Center.
Arrowhead Justice Court Parking (Free)