Vehicle Towing & Impound Information
Contact the towing company to confirm your vehicle is with this company.
You can find the information of the towing company on the Vehicle Impound Report document you receive from the officer.
The towing company will give you the total amount owed to them for towing and storage fees and inform you if your vehicle has a 30-day hold.
If there is no hold on the vehicle you may retrieve the vehicle as soon as possible.
To retrieve the vehicle, you will need to prove that you are the registered owner or lease holder of the vehicle in question.
You can prove this by proving the towing company the vehicle registration and a government issued identification.
If the vehicle registration is inside the vehicle you should be allowed to retrieve it.
Contact the police department that ordered the vehicle impound and request a post storage hearing within 10 days of the vehicle being impounded.
This hearing is to determine the validity of the impoundment and to determine if the vehicle can be release before the 30-day period.
The hearing can be requested by the registered owner, lease holder, or legal spouse of the registered owner/lease holder of the vehicle.
Keep in mind that your spouse may have to sign a waiver stating you will not be able to drive the vehicle for it to be released.
This hearing is not in front of a judge but is instead conducted by the staff in the Code Enforcement Unit of the police department that issued the 30-day hold.
There is an administrative fee of $150 that will need to be paid to the police department at the time of the hearing. The documents needed for the hearing are as follows:
Valid driver license
Current vehicle registration
Proof of current vehicle insurance
Payment for administrative fee of $150 in a cashier's check or money order.
Your vehicle will ONLY have a 30-day hold if you are charged with an extreme DUI or an aggravated DUI. This means that the PBT (preliminary breath test), conducted by the citing officer, has to be at or above 0.15%.
The citing officer will provide you with a vehicle impound report where the PBT result will be written. See example below.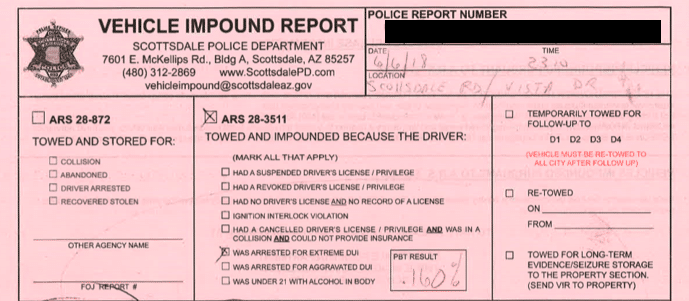 On or after the 30th day of impound you will need to contact the police department that ordered the vehicle impound to obtain the release paperwork. You will need to pay the administrative fee of $150 to obtain the release form. Secondly, you will need to contact the towing company and get the total amount owed for towing and storage. This fee is paid directly to the towing company at the time of the vehicle pickup. The documents needed for the towing company are as follows:
Vehicle release form issued by the appropriate police department
Proof of vehicle ownership
Payment of all towing and storage fees