About West Mesa Justice Court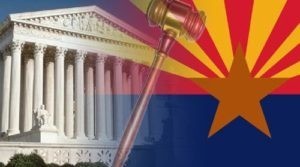 The West Mesa Justice Court is located in Mesa, Arizona, a suburb of Phoenix. Mesa is the third largest city in Arizona, after Phoenix and Tucson, respectively. Mesa's history has a diverse cultural background comprised of the Hohokam Indians, Spanish explorers, Mormon migrants, the Tohono O'odham Indians, African-American migrants, and Chinese and Japanese immigrants. The Hohokam Indians built the first canal system, which were said to be the most sophisticated in the 19th century. Decades later, the First Mesa Company, a group of 85 settlers from Idaho and Utah, rebuilt the canal system, and Mesa was officially named "Mesa City" in 1889. As the canal system expanded, the town had enough water flowing for a power plant to be built. This power plant led to further growth of the town.
Present-day Mesa is still culturally diverse, and is considered to be one of the best cities in Arizona for experiencing a melting pot of culinary tastes.
Common Offenses in West Mesa Justice Court
Criminal and Excessive Speeding

Citations for criminal speeding or excessive speeding are the most common violations we see out of the West Mesa Justice Court. Most violations occur on the SR101 and the 202 Loop, which encompass much of the greater Phoenix area and connect several suburbs of Phoenix. In Arizona, any speed over 85 miles per hour can be charged as an excessive speeding violation.
Reckless Driving

Reckless driving is another very common violation charged out of the West Mesa Justice Court. Whether this charge is cited on a person's ticket depends a lot upon the officer who issues the citation. Some officers will only charge this violation in extreme circumstances and other officers will cite it as a matter of common practice. Generally, whether an officer in this jurisdiction issues a reckless driving charge will depend upon the speed, the mile post, whether there were other people in the vehicle, and any other violations observed during the driving.
West Mesa Justice Court Jurisdiction
The West Mesa Justice Court serves a specific jurisdiction, like any other court system. The boundaries of the West Mesa Justice Court's jurisdiction include Doubletree Ranch Road to the north, Southern Road to the south, Country Club to the east, and Pima to the west. While it may seem that these boundaries create a traditional rectangular area, this area is different. The West Mesa Court jurisdiction is actually sectioned into two separate islands of land.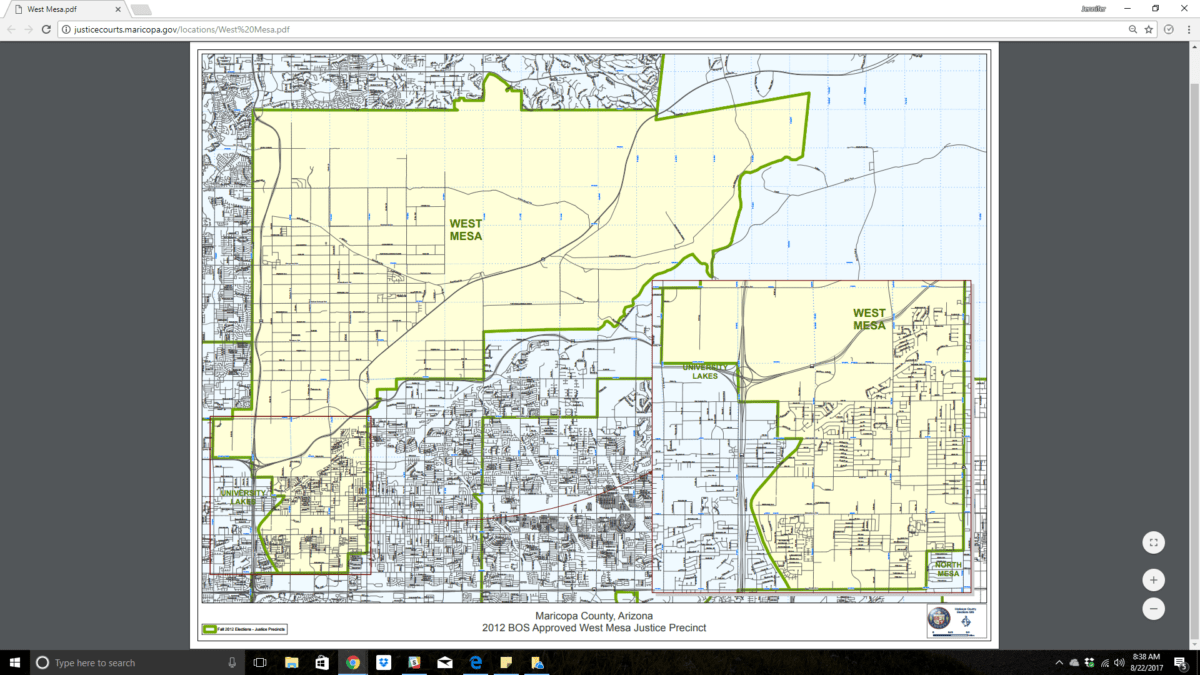 About West Mesa Justice Court Judge, Fred Arnett

Judge Fred Arnett was elected Justice of the Peace of West Mesa Justice Court in January 2017. Prior to serving on the bench, he was the elected constable for this precinct for the previous 16 years. In our subjective opinion, Judge Arnett is a very reasonable Judge and uses his discretion in situations that warrant action from the bench.
Judge Arnett has both a criminology and criminal justice degree from Arizona State University, and has been a longtime resident of Mesa.
Officers Patrolling West Mesa Justice Court
Officer J. Rod, Badge Number 06321
Officer Jason Rod is an Arizona Department of Public Safety officer who writes numerous of traffic tickets out of this jurisdiction. If speeds approach 100 miles per hour or higher, he will generally cite an individual with Exceed of 85 MPH. This results in clients being charged with a class 3 misdemeanor facing a total of 3 points.
In this citation, Officer Rod used a Vascar device to estimate this individual's speed, and issued a citation for the charge of, exceed of 85 MPH. Officer Rod is certified to use the Vascar device to measure a vehicles speed.


Officer B. Houchens, Badge Number 07537
Officer Houchens is another Department of Public Safety Officer who writes tickets and does traffic patrol out of the West Mesa Justice Court area. His style of writing tickets is more thorough than Officer Rod's. In the following citation, he wrote this individual for a reckless driving.

West Mesa Justice Court Map & Parking
The West Mesa Justice Court is a very small court which is located on the crossroads of University and Dobson.
Hiring a West Mesa Justice Court Defense Lawyer
Our office represents a very large number of people charged with offenses in West Mesa Justice Court. On a great majority of our cases, we are able to prevent our clients from having any criminal record and resolve their case. We provide representation on a flat fee basis, offer affordable payment plans and deliver a proper defense with a team dedicated to solving traffic related cases.
Contact us today for a free, no obligation case evaluation. Send us your citation and your information below and we will review your matter as soon as possible.